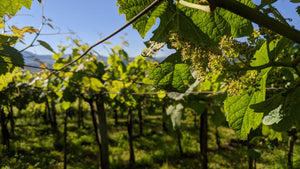 It has been widely documented that Cantabrian wine-growing, and specifically txakoli, dates back to the Middle Ages. It was the pilgrims journeying along the northern pilgrims' route to Santiago that brought to these Gipuzkoa lands a vine-growing culture originating from northern Europe.
Thanks to this 1,000-year-old viticultural heritage and the expertise of those monks that arrived from northern Europe, txakoli enjoyed periods of boom between the 11th and 16th centuries. In more recent times txakoli has developed from a wine enjoyed in local taverns, or at home with the family, to one that is strongly positioned in the most avant-garde and prestigious restaurants, thus gaining renown and respect among wine consumers.
In this context, we began in 2015 our Izar-Leku Mahastiak project, which brought together the
Zapiain & López de Lacalle families. With the help and experience of Inaxio Manterola, a wine-grower in Zarautz, we now grow 3.75 hectares (9.26 acres) of Hondarrabi Zuri y Beltza grapes, from which we produce a sparkling wine with txakoli as its base wine.
The result is Izar-Leku, a sparkling wine packed with natural energy which after a long ageing in bottle produces a wine with great aromatic complexity and an attractive distinct saline minerality.